This Is Wickedness, Take A Look At What Side chick Did To This Man's Family As A Revenge
This is what this woman did to this man's family after she discover that the man have been lying to her while dating her only for her to found out that the man actually have family, he is married with wife and kids…
Dating or having a side chick when you are married is a very bad thing, it can jeopardize your life, that of your family and even jeopardize your marriage just like what is happening to this man who is having an extra marital affair outside of his marriage.
The side chick has declared his whole family dead on social media after she gained access to his Facebook account and discovered that the man she is having an affair with has been lying to her because she came to discover that the man actually has a family and he has been screwing her all along.
For revenge sake, she has declared the family dead on social media by writing RIP on the picture of his wife and his children.
She even threatened to deal with him mercilessly as this is just the beginning of the whole thing.
The screenshots below will explain everything to you.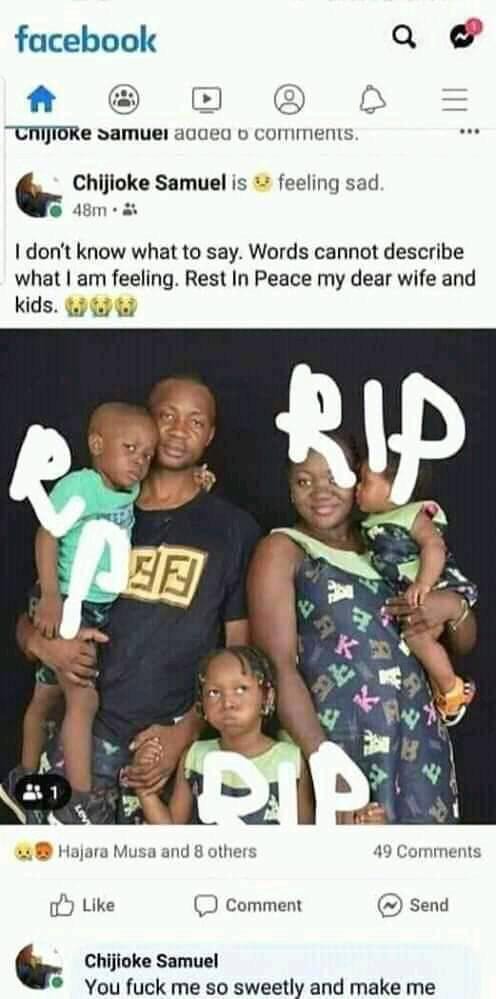 Now this is a very a very expensive and evil thing to do to a man who cheated on you, you should't do this to his family at all.
Now what do you have to say about this, do you justify the side chick for taking this action on the man and his family or you condemn her action?
Lets hear your view on the matter.